A Miami man is in custody, accused of killing two men because he perceived they were gay, WPLG reports: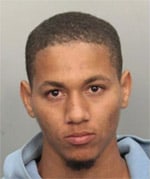 "A suspect has been arrested in the fatal shooting of the owner of a South Florida auto shop, and police said the gunman killed the man because he thought the man was gay. Matthew Guzman, 21 (pictured), was arrested and charged with first-degree murder in the death of Paul Barrow, 46. Barrow was shot in the head on the morning of Dec. 16 at his business, Devonaire Service, at 122nd Avenue and 112th Street. He later died…Guzman was arrested Sunday in connection with another crime. Police said he then confessed to killing Barrow as well as another man, Harry Ray, on Nov. 18."
WSVN notes that Guzman shot and killed Ray because he perceived Ray was making "homosexual advances" towards him.
Watch an early NBC report on the shooting of Barrow, whom they mistakenly refer to as Morrow, AFTER THE JUMP…