New hospital visitation rights for LGBTs go into effect: "These new regulations require all hospitals participating in Medicaid and Medicare programs – virtually every hospital in the country – to permit patients to designate visitors of their choosing and prohibit discrimination in visitation based on a number of factors, including sexual orientation and gender identity."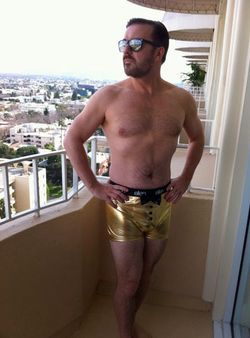 "You expect the unexpected" with Ricky Gervais.

WGBH in Boston soliciting three-minute shorts from "citizen reporters, journalists, video-bloggers, documentary story tellers, animators or new media-makers" to accompany its airing of Stonewall Uprising.

LOGO's The A-List renewed for second season. Full cast to return.

Jonas Akerlund to direct new Britney Spears clip…

Vatican told Irish priests not to report abuse: "A documentary to be aired tonight reveals the contents of the letter and also claims that, on at least two occasions, the Vatican stepped in and stopped attempts by Irish bishops to defrock abuser priests. Last month, details of one of those occasions was made public when a High Court order finally allowed the full publication of a previously censored chapter in the Murphy Report on the Dublin Archdiocese. That revealed that when bishops made moves to dismiss paedophile priest Tony Walsh, the Vatican instead sought to send Walsh to serve 10 years in a monastery."

Darren Criss wants a date with Tina Fey: "I just want to get some of her pixie dust on me." 

Big Brother Brazil 11 cast includes two gay men and a trans woman.

Landscape of ash: "A collage of city-skyline cutouts make up the ashy tip of Yongliang's cigarette sculpture, hung vertically above a mound of b&w photos and rows of artificial flowers…"

Nicole Kidman has a baby…through a surrogate.

A few NSFW screenshots from Edgar Ramirez' Golden Globe-winning miniseries Carlos.

TIME wonders about prophecy in death of 200 cows.

Groups of Yankees fans still bullying gays in the stands.

Gay couple goes before judge today in Louisiana case: "Oren Adar and Mickey Ray Smith of San Diego want the 5th U.S. Circuit Court of Appeals to uphold a unanimous three-judge ruling and a district judge's decision that both of their names must go on their son's birth certificate. Adopted children get new birth certificates with their new parents' names on them. But the state Attorney General's Office contends that Louisiana's registrar cannot put both Adar's and Smith's names on their son's birth certificate because they could not have adopted him together in Louisiana."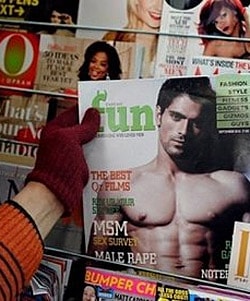 Gay magazines a sign of increasing visibility, acceptance in India. "There are now at least eight print and online magazines aimed at lesbians and gays…"

Did Matt Bomer get married?

Tim Pawlenty courts anti-gay leaders in Iowa: "Pawlenty will continue to court anti-gay leaders by meeting with Iowa's Bob Vander Plaats and his organization, The Family Leader. Vander Plaats told the Des Moines Register that his group will be "hosting Governor Pawlenty in Iowa" in early February to discuss 'pro-family issues, all the way from life and marriage to economic policy and energy policy.'"

Homophobic banter entertains crowd at National Western Stock Show Rodeo in Denver on Saturday: "I found much of it offensive, especially the jabs about cowboys in love. And while the homophobia may not have been overt — no one said, 'Gay people are gross!' — furtive homophobia is still homophobia. And it's apparently welcome at the rodeo."