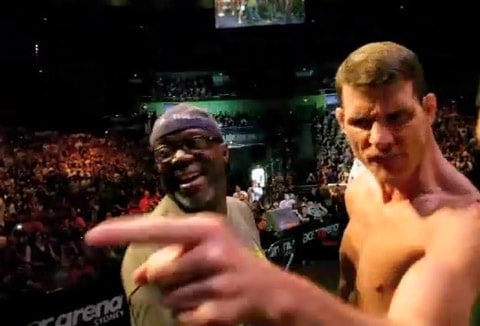 Several of you have emailed about a promotional video for a UFC event in Sydney over the weekend in which UFC fighter Michael Bisping is seen referring to his his opponent as a "faggot M-f-er."
Our tipster Wayne writes that if Bisping's comment had been racially-oriented he would have been fired immediately: "As a straight man and as a fan of your site, I find it utterly reprehensible that such a scumbag like Michael Bisping would be able to get away with this. You may not know who Michael Bisping is, and you may not be fans of mixed martial arts and the UFC, but their fans are legion. I hope you draw attention to this pathetic man."
Outsports took note of the incident as well, noting that "For good measure, after delivering an illegal knee to Rivera in their fight he won, Bisping then spit in Rivera's corner."
MMA Fighting says the organization needs to shut down homophobic slurs like Bisping's.
Watch, AFTER THE JUMP…
Ultimate Fighting President Dana White, on whose blog the promo video appeared, has been called on in the past by GLAAD to apologize for homophobic slurs.