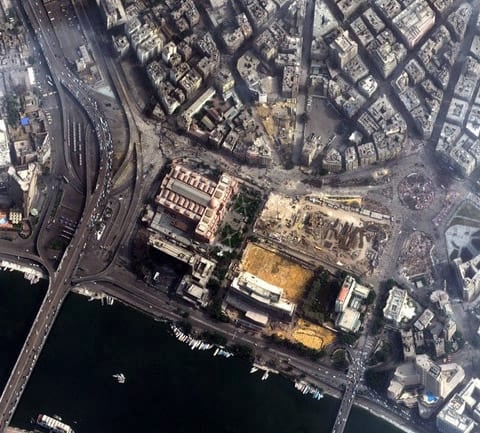 A recent satellite photo of downtown Cairo.
Here's a huge ABC News list of threats journalists in Cairo. New York magazine asks, is the time for "putting a flashy news anchor in the middle of a chaotic crowd" over?
Michelangelo Signorile spoke with activist and scholar Rasha Moumneh, a researcher with Human Rights Watch who works with feminist and LGBT groups in the Middle East, including Egypt, on his radio show Tuesday about what the protest might mean for LGBT Egyptians.
You can listen to his audio HERE.
The Washington Blade has a report on gays in Egypt:
Scott Long, former LGBT coordinator for Human Rights Watch, an international human rights group, said he has been in contact with gay Egyptians over the past week.
Many have informed him that LGBT people are among the hundreds of thousands who have assembled in Cairo's Tahrir Square to demand an end to what they view as an oppressive government that has persecuted a diverse segment of the population, including gays, lesbians and transgender people.
"There are LGBT people marching and joining the protests, not as LGBT people," Long said. "They're not marching under a rainbow flag. But certainly friends of mine are out there."
Long said at least two gay men he knows were arrested in the first street protest in Cairo on Jan. 25 — not for being gay but on a charge of disturbing the peace. Authorities arrested protesters on that charge in an initial attempt to stop the demonstrations last week before determining they were too large to control.
LGBT Asylum News also has a report on gays in Egypt.
Today is being seen as a so-called "Day of Departure" for Hosni Mubarak.
After a night of scattered clashes and bursts of gunfire, an uneasy calm prevailed on Friday as antigovernment protesters mustered for what they have called a "Friday of departure" in hopes of maintaining the momentum behind demands that Mr. Mubarak step down after three decades in power. Television images showed thousands of protesters crowded beneath the palm trees of Alexandria, Egypt's second-largest city on the Mediterranean coast, waving Egyptian flags and demanding Mr. Mubarak's ouster.
More from Al Jazeera…
Chris Bodenner at Daily Dish posted a video from Cairo's 'Day of Rage' which reportedly shows a diplomatic vehicle running down more than 20 people. He writes…."such rare glimpses of raw violence is the only way for many of us to appreciate the real costs of these protests and see through the statistics. Besides, the rage and desperation displayed by the crowd after the car attack feels more compelling than the blatant shock value of the beginning."
Clip (warning: graphic), AFTER THE JUMP…