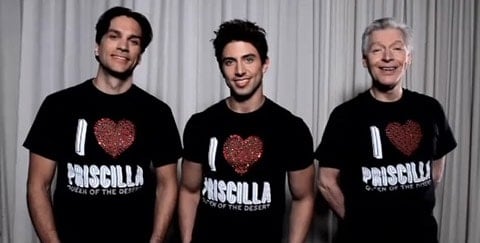 The first televised public service announcement for the "It Gets Better" project will air locally beginning Tuesday in the New York area in conjunction with the upcoming Priscilla, Queen of the Desert Broadway production.
In the 30-second spot, the actors Nick Adams, Tony Sheldon, and Will Swenson take turns offering encouraging words — "All the greats were ahead of their time," Mr. Sheldon says — and urging viewers to sign onto a pledge on the project's the website. The pledge asks people to spread the message that "everyone deserves to be respected for who they are" and promise to "speak up against hate and intolerance whenever I see it, at school and at work."
—
While actors and crew members in many Broadway shows have appeared in videos for the project, the "Priscilla" segment is the first public service announcement for It Gets Better, Mr. Savage said in a statement.
Watch the 30-second spot, AFTER THE JUMP…