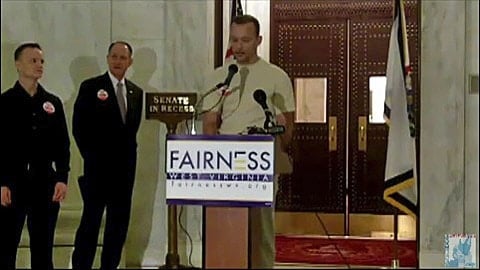 In December I wrote about Sam Hall, a West Virginia coal miner suing his employer, a subsisdiary of Massey Energy Co., for on-the-job anti-gay harassment.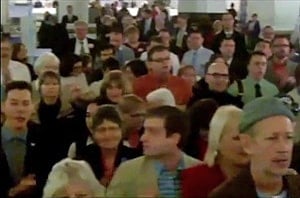 At a press conference earlier today at the Capitol in Charleston, Hall was cheered as he spoke for the need for employment and housing protection for gays and lesbians in West Virginia, in support of two bills pending in the legislature — S.B. 226 and H.B. 2045 would add sexual orientation to the state's civil rights laws. 
West Virginia Watchdog reports: "Both bills are in committee. The bills must be passed out of committee by Feb. 27 in order to be read a full three times in each chamber."
Hall was joined by Democratic Sen. Jeff Kessler, acting as senate president, who told the crowd that it is time for West Virginia to recognize "that all men are created equal," and Del. Barbara Fleischauer (DMonongalia). A crowd of hundreds rallied in support of Hall, chanting "stand with Sam."
Watch Hall, Kessler, and Fleischauer at the rousing rally, AFTER THE JUMP…