Following the news of author Perry Moore's untimely death, MTV News checked in with Starz network, where an adaptation of Moore's Hero, a critically-lauded book about a gay superhero was in development.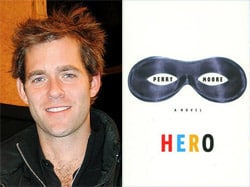 According to the network, plans are still moving forward:
In the initial report of his death on WTKR, the project was mentioned as one of several he was working on at the time of his death — though cable network Starz appeared to be the new home for the project.
"It's still in development," a spokesperson for Starz told MTV News of the project's status in the wake of Moore's death.
A rep for Starz could not confirm the current involvement of POW Entertainment in the project, and requests for comment/confirmation from POW did not receive a response at press time. Starz listed the current "Hero" producers as Moore, his creative partner Hunter Hill, and "300" producer Mark Canton.