Benefit tonight for hate crime victim Barie Shortell in Williamsburg, Brooklyn.

Victory Fund endorses former SF supervisor Bevan Dufty for San Francisco mayor.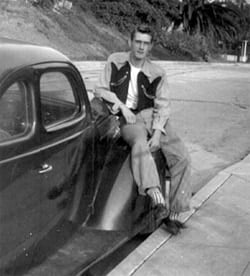 James Gruber, last living member of the original Mattachine Society, one of the nation's earliest gay rights group, has died.

James Franco and Bruce Vilanch kiss and make up.

NAACP sees increasing diversity: "NAACP branches have been recruiting gays, immigrants and young people who grew up in a world far removed from the landmark 1954 Brown vs. Board of Education ruling that outlawed school segregation."

Duran Duran to perform "unstaged" show in L.A. directed by David Lynch.

Broadway's Spider-Man musical claims another victim: "T.V. Carpio stepped in to replace another actress injured in Broadway's troubled 'Spider-Man: Turn Off the Dark.' She has now herself been sidelined after an accident. Producers of the $65 million musical said Tuesday that Carpio was hurt last week during an onstage battle scene. She plays an evil spider woman called Arachne and will be out of the show for the next two weeks."

Matt Rettenmund has a review of the Fifth Annual Broadway Beauty Pageant.

Harajuku girl: Gwen Stefani donates $1 million to Japan tsunami relief.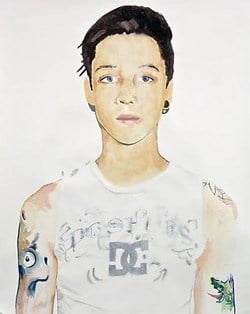 Gus van Sant, painter.

Chinese censors cut off phone calls when the word "protest" is uttered? "The story recounts an eye-opening anecdote: a Chinese entrepreneur was on the phone with his girlfriend, and quipped, quoting Shakespeare: 'The lady doth protest too much.' Upon the word 'protest,' the phonecall cut off. He was speaking in English, but this has also happened to people speaking in Mandarin, so it's not just a one-off."

Senators tell Apple: remove apps that alert people about sobriety checkpoints.

Walmart corrects problem with rejection of the word "gay" in its commenting mechanism: "I apologize that this situation has been created," Ravi began. "It was a systemic oversight, in which 'gay' was on a list of filtered words. Certainly it makes absolute sense for you to include this word in your review…. This is a no-brainer for us."

Tennis player Fernando Verdasco has a shirtless practice session.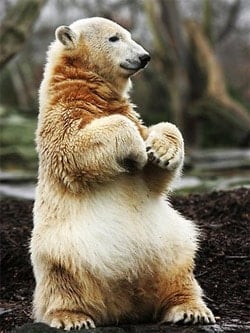 Knut the Polar Bear to be stuffed and put on display at Berlin Natural History Museum.

Mike Huckabee says he would reinstate 'DADT': "I would — because that's really what the military wants. There's been some talk that the military is fine with having same-sex orientation people. But if you really surveyed the combat troops, that is not at all the case."

American Beauty's Wes Bentley is on his way back to the screen.

Get My Money Back: a new video from gay rapper Cazwell.

Gay employee of Mormon church says he was fired for refusing to give up his gay friends: "Drew Call, 32, a returned missionary who is gay, was a supervisor in the church's printing department until March 7. At a February private meeting with his Salt Lake City stake president—who declined to be interviewed—Call says he was asked to abandon his gay friends as a condition for renewal of his temple recommend. Surprised and fearing people may not believe him, Call surreptitiously made an audio recording of the follow-up meeting in March so there could be no doubt about what happened."