The NY Post reports that Freddy Schmitt, an 82-year-old American Airlines worker was fired for using the word "faggot" during a workplace discussion of "Don't Ask, Don't Tell" even though the context he used it in was in support of gay people.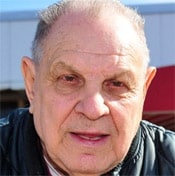 Schmitt, a military veteran, reportedly spoke about his service in the Army 60 years ago when he used the slur. Said Schmitt, according to the Post: "Back then, a faggot coulda saved my life."
Schmitt worked for the airline for 54 years: "Under the terms of the firing, Schmitt retains his pension but loses his health benefits — and the travel privileges his wife of 45 years, Viola, so enjoyed."
Schmitt is appealing the firing via arbitration.