Sarah Palin's parents are dead animal horders.

NASA distances itself from report on alien life discovery in meteorite: "NASA cannot stand behind or support a scientific claim unless it has been peer-reviewed or thoroughly examined by other qualified experts…. NASA was unaware of the recent submission of the paper to the Journal of Cosmology or of the paper's subsequent publication."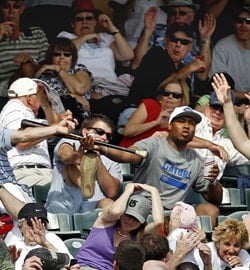 Fan saves crowd from flying baseball bat.

Lee Pace and Jim Parsons join cast of Larry Kramer's The Normal Heart on Broadway.

Tom Brady dances like nobody's watching.

Walking Dead creator begs Charlie Sheen to join show. Sheen drinks Tiger Blood, waves machete.

New York's Lesbian and Gay Community Center to hold forum on cancellation of Israeli Apartheid Week event: "According to a short statement issued by the center on its website, the planned gathering will provide 'an open forum to share their perspectives and provide us with feedback.' Last Saturday, some 130 pro-Palestinian activists staged a counter-protest at the center, which has become an unexpected battleground between pro-Israel and pro-Palestinian supporters. They carried signs and shouted chants against the center's decision to cancel the planned 'party to stop Israeli Apartheid.'"

WATCH: The Lindsay Lohan necklace theft surveillance video.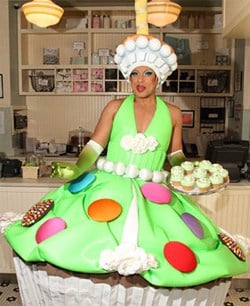 NYC's Magnolia Bakery unveils Priscilla, Queen of the Desert cupcake.

Gay-friendly bar in UK hit by vandals: "Landlady Maz Shipton, 48, said the damage was done when somebody put two bricks through the glass windows of Divas on Park Street."

Schoolboy prank played on principal and deputy principal ruled "defamation" by South African court: "[Principal] Dey did not want to be seen as a person who masturbated in public, had low morals, was guilty of indecent exposure and was in a homosexual relationship."

 A look at homoeroticism in Restrepo.
Male model fix: Andrew Stetson.

Julie Taymor negotiating exit from Spider-man musical? "The people who spoke about the negotiations said that, throughout Monday, they were not sure if Ms. Taymor would stay or go as director. One person briefed on the negotiations said that Bono, who has been away for much of the show's preview period, had taken a direct role in the talks."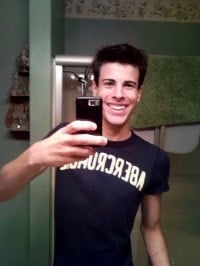 Minnesota gay teen's death ruled a suicide. Lance Lundsten had been bullied.

Heterosexuals support gays in Sydney with same-sex kissing.

Gay couple undertakes wedding tour.

Today is International Women's Day.

Androgynous male model Andrej Pejic tells The Telegraph he loves gender-bending but he's happy to stay physically male unless he gets a Victoria's Secret contract.

The NYT says it's too long to wait for same-sex marriage in California: "The stay should never have been granted in the first place. Applying traditional legal criteria, the extraordinary relief of a stay is only warranted when the applicant makes a strong showing of likely success on the merits and of irreparable injury in the absence of a stay — two arguments that cannot be satisfied here. As the trial judge's ruling affirmed, the denial of marriage equality furthers no legitimate governmental aim. And defenders of Proposition 8 can point to no real injury they would suffer if gay men and lesbians are permitted to wed. Every day same-sex couples are denied their right to marry is another day of injustice for them and their families. Couples who wish to wed knowing that the appellate court could decide to uphold Proposition 8's ban should be allowed to take that chance."