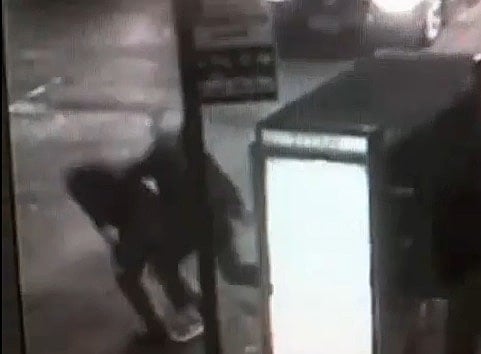 On Monday, I posted about the brutal anti-gay assault on Damian Furtch last weekend outside a McDonald's in NYC's West Village. Furtch was on his way home early Sunday morning when two men began harassing him inside the restaurant when they noticed he was wearing colorful clothing, specifically pink shoelaces and a fluorescent hat he wears as a uniform at the Pink Tea Cup.
Video has been released of the attack. Watch it, AFTER THE JUMP…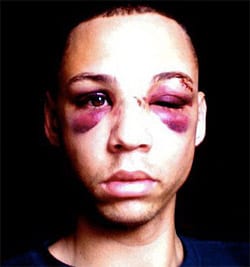 The men followed him outside where they proceeded to attack him yelling anti-gay slurs.
Furtch shared his story with GLAAD yesterday, and thanked supporters:
The attack against me is part of the larger issue of violence against gay and transgender people in New York City.  While I am grateful for the opportunity to share my story, I hope to shed light on the larger issue of violence against my community. This has to stop. Under no circumstance should a person be attacked for their sexual orientation.
This has been a traumatic experience for me, my friends and my family.  I'd like to thank my close friends and family who have been supportive and loving through this situation.  I'd also like to thank City Council Speaker Christine Quinn's office, the New York Police Department's Hate Crimes Unit and the LGBT and ally community for their continued Facebook and e-mail support. It's much appreciated and recognized.
NY1: Furtch's boss at the nearby Pink Tea Cup says he can't imagine anyone who would want to hurt the aspiring dancer and model. 'A gentle giant, wouldn't hurt anyone. Just that guy that you're definitely gonna remember and if he served you at the table, you'll request him when you come back,' said Pink Tea Cup Owner Lawrence Page."
Watch the video, AFTER THE JUMP…
NY1: Investigators say they're looking for two men 18 to 20 years old. Police Commissioner Ray Kelly says the Hate Crimes Task Force is aggressively investigating the incident. Anyone with information about the case is being asked to contact Crime Stoppers by calling 1-800-577-TIPS, by texting TIP577 to CRIMES, or by going to NYPDCrimeStoppers.com.
According to earlier reports, "One of the perps has a huge tattoo of a gothic cross under his left eye..it was approximately 2 inches.."
Previously…
Man Beaten in Anti-gay Assault in NYC's West Village [tr]