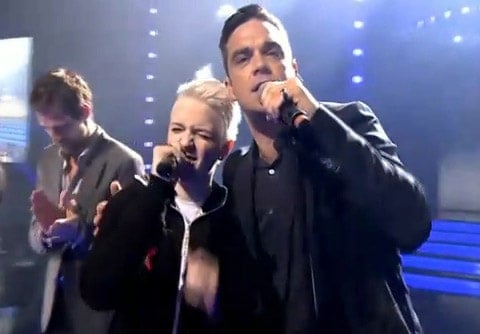 Lesbian teen 'Sarah' has won Denmark's X-Factor.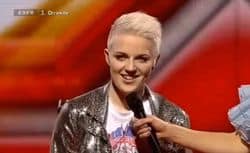 In front of a crowd of 40,000 at Parken Stadium and with millions more watching at home 15-year-old Sarah was voted winner of the 2011 season of X Factor last night.
Sarah's win comes despite warnings by voice experts that she not be allowed to participate in the show due to concerns that she had been singing incorrectly and could do long-term damage to her vocal cords.
**
Sporting a crew cut and singing with a husky voice that has consistently earned her the praise of all three judges, Sarah stole much of the attention during the audition phase of the contest when she announced she was a lesbian, an announcement that caught the attention of the lesbian media.
A tipster writes us: "She kissed her girl friend on camera while Sarah's mother and her class mates stood next to them. The girl friend was even  interviewed during the show and asked what she fell for when she first met Sarah, and the girl friend answered: 'The whole package!' The 'lesbian thing' has been no big thing at all, nobody has raised an eye brow and Sarah has been out from the start."
Watch her final performance of Lady Gaga's "Poker Face" and the final contestants perform "The Flood" with Take That, AFTER THE JUMP…