Institute of Medicine releases major report on LGBT health issues, concluding that much more research is needed in many areas: "The panel, appointed by the Institute of Medicine, said the government should finance research to develop standardized measures of sexual orientation and gender identity — 'one's basic sense of being a man, woman or other gender, such as transgender.' Gay people often face 'barriers to equitable health care,' decline to seek care in times of need and receive substandard care when they seek it, the report said."

Andy Cohen is Snoopy's BFF: "I have been Snoopy's best friend in my head forever. In fact, when I was little, I had this stuffed Snoopy and my dad would take him and act like he was whispering things about me into his ears and I believed he could hear him. [Laughs]"

Is this a Gaga-Lambert April Fool's joke?

Masturbation eases restless leg syndrome.

Tilikum, Sea World's killer killer whale, "chose" to return to performing, according to park officials.

Ricky Martin getting married?

GOP Rep. Sean Duffy: I'm struggling on my $174,000 salary.

Joseph Lelyveld: My book didn't say Gandhi was gay. "It is a responsible book, it is a sensitive book, it is a book that is admiring of Gandhi and his struggle for social justice in India and it's been turned into some kind of a sensationalist pot boiler. It is not…It does not say Gandhi was bisexual. It does not say that he was homosexual." This is what it says.

Andrew Belonsky profiles Equality Matters' Kerry Eleveld for Death + Taxes magazine.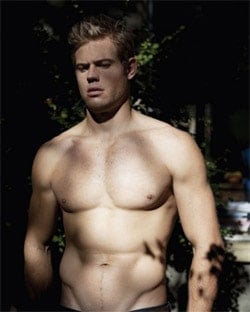 Trevor Donovan is Da Man.

Russia may face rebuke from The council of Europe on gay rights, Andrea Gross, a member of the human rights committee with the council's Parliamentary Assembly, told The Moscow Times: "His committee is drafting a Russia report on human rights, including gay rights, together with the State Duma. The report will be presented to the Council of Europe, though Gross did not specify a date. Gross' main complaint was with the ban on gay pride parades."

A chart for label queens?

John Travolta to play mobster John Gotti.

Robyn on her gay fan base: "I think a big part of my audience is gay because I make dance music and club music, and that culture came out of gay culture—but also because having an understanding of outsider culture has always been in my music."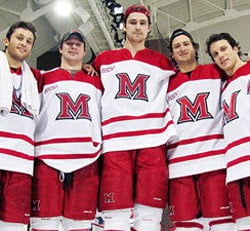 The Miami of Ohio hockey team talks about Brendan Burke and puts out the welcome mat for gay athletes.

RuPaul's Shangela to play stylist in scripted NBC drama starring Don Johnson.

Flashback 1957: "The decision to jail homosexuals will be given wide approval."

Guess who didn't miss Geraldine Ferraro's funeral?

USGS finds 2,000-year-old coral reef near site of BP oil well in the Gulf: "Black corals, which resemble deep-sea bushes or trees, are found throughout the world and are an important marine habitat for fish and other forms of marine life. They grow very slowly- a human fingernail grows 2,000 times faster than black coral, USGS said."