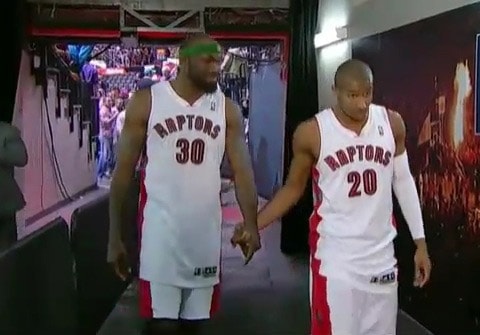 Leandro Barbosa of the Toronto Raptors grabbed teammate Reggie Evans' hand as they were leaving the court on Sunday night after their 102-98 win over the Magic, inspiring hundreds of homophobic comments on a brief YouTube clip of the moment. Comments were later disabled.
Outsports took note of several of them. No word on why Evans took Barbosa's hand.
Regarding the debate over the web clip, Sportsgrid notes: "None of this is surprising, of course. Anonymous internet commenting turns weak people into weak idiots. But the fact that literally every comment on the video's YouTube page is either homophobic, or people reprimanding said homophobia, is a nice little example of how touchy a subject homosexuality is in sports."
Watch the clip, AFTER THE JUMP…