Al Qaeda confirms Bin Laden death.

On Monday, more than a thousand people are expected to participate in the Empire State Pride Agenda's Equality and Justice day lobbying for marriage equality in Albany.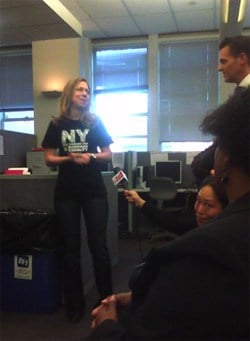 Chelsea Clinton phonebanks for marriage equality in New York. More…

TAB: John Travolta eyes Lindsay Lohan for Scientology.

Two gay Obama officials, HRC named in federal "Racketeering" lawsuit filed by anti-gay Bush official Scott Bloch: "The 64-page lawsuit, filed last week in Fairfax County Circuit Court, charges the defendants – including former GOP Congressman Tom Davis of Virginia – with conspiring to force Bloch out of his job as head of the U.S. Office of Special Counsel through a trumped up criminal investigation, according to Courthouse News Service, which first broke the story."

Playwright Tony Kushner offered, then denied honorary degree from John Jay College over his views on Israel.

No honeymoon yet for Prince William.

James Franco bringing meta-multimedia play to NYU.

If you see a strolling three-string guitarist in NYC, it's your lucky day.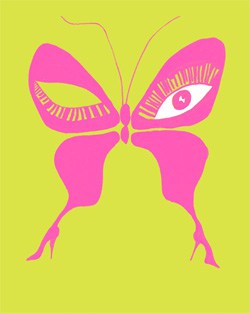 Might Simon Doonan brighten your apartment? To benefit Housing Works?

Northern Ireland man acquitted of assault in ass-touching case: "A man acquitted of assault in a gay friendly bar was 'establishing his straight credentials' when he pushed his face into the face of a man who had touched him on the bottom, a judge has said…Quoting from his client's police statement, Mr Quigley said: 'I was going for a smoke and when I opened the door he felt my a*** so I turned around and sunk my head into his head because he was ready to plant his lips on me.'"

Prohibition: Gay nightclub opens in Atlantic City.

Another worthy kickstarter campaign: Alix Smith's States of Union.

Australian soldier charged over Facebook gay hate page: "The Facebook page was created using the pseudonym 'Steve Austin'. The four serving gay men had their names published on the page, which has since been taken down. It allegedly had links to extremely violent and pornographic videos on YouTube showing executions of homosexuals superimposed over images of Anzac Cove in Gallipoli and flag-draped coffins of dead Australian soldiers."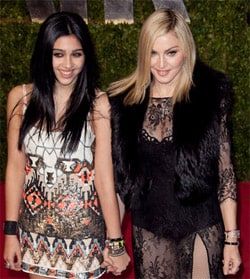 It's So Cool: Madonna and Lourdes record song together.

Johnny Weir speaks out against the naming of anti-gay,Prop 8 supporter Peter Vidmar as the U.S. Olympic liaison for the International Olympic Committee and London games organizers: "I certainly wouldn't want to be represented by someone who is anti gay marriage. It isn't just about marriage, it is being allowed equal rights as Americans. The fact this man who is very publicly against something that may be represented on the American team is disgraceful."

Boy George's friend Philip Sallon says he won't be daunted after being attacked on the street: "Someone said to me 'I hope this teaches you a lesson not to wander around the streets'. Am I not to go round the West End any more and just sit in my attic? I don't find the streets of the West End that dangerous, I feel safer there than on a normal high street. I like to go out and have good conversations on the streets."