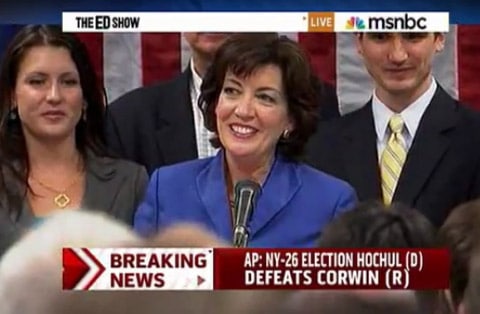 In a special election race being seen as a referendum on Medicare, Democrat Kathy Hochul captured a seat held for four decades by Republicans, the NYT reports:
Two months ago, the Democrat, Kathy Hochul, was considered an all-but-certain loser in the race against the Republican, Jane Corwin. But Ms. Hochul seized on the Republican's embrace of the proposal from Representative Paul D. Ryan of Wisconsin, to overhaul Medicare, and she never let up.
On Tuesday, she captured 47 percent of the vote to Ms. Corwin's 43 percent, according to unofficial results. A Tea Party candidate, Jack Davis, had 9 percent.
Voters, who turned out in strikingly large numbers for a special election, said they trusted Ms. Hochul, the county clerk of Erie County, to protect Medicare.
Hochul is also a supporter of marriage equality.
Watch Hochul's victory speech, AFTER THE JUMP…