The Spirit of Christ Metropolitan Community Church, an LGBT-affirming, inclusive church in Joplin, Missouri, was destroyed in the recent tornado, which barreled through town just as they were having a service. Pastor Steve Urie (pictured) and his partner's home was also destroyed.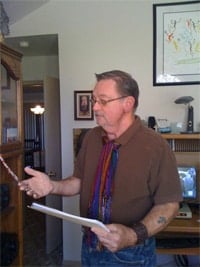 Spirit of Christ MCC writes, on its homepage:
Thank you for your concern, the tornado hit just as we were begining service on Sunday night. We rode out the storm in the basement of the church with only two people injured. The building that we had previously rented from Unity of Joplin was completely destroyed. There will be no community meal on Wednesday, May 25.
In addition, Pastor Steve's home and cars were destroyed in the storm. The other members who were attending church on Sunday, also lost their cars. We can joyfully report that all members of SOC MCC have been located and reunited with their families.
PROMO, Missouri's statewide LGBT advocacy group, has a donation page for the church if you would like to help them out. PROMO writes, "As the LGBT-affirming church in Joplin, they will be able to distribute the donations to the LGBT community in Joplin."