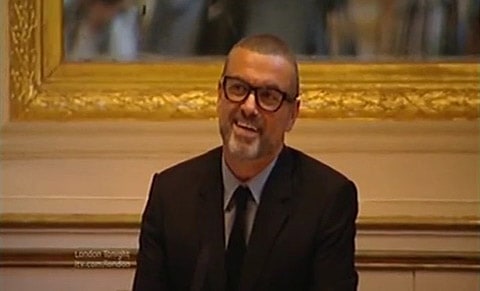 A cleaned-up George Michael held a press conference this morning to announce "Symphonica — The Orchestral Tour" in which he'll play 47 dates with a full orchestra beginning at the State Opera House in Prague on August 22.
Michael also told reporters that he would be recording a "dance-themed" album featuring other gay artists, the AP reports:
"In terms of staying on the straight and narrow, then there's nothing better than work that you love…So I thought I should tour sooner rather than later, to keep that impetus, to keep driving me to take care of myself and to appreciate what I have. [Michael said that when he made mistakes, he was] letting young gay people down [due to the] homophobia that was thrown at me [and wanted to] defend gay children from some of that language…There are things about this next album where I am going to try and make up for some of the damage that I have inadvertently caused."
Watch some (and listen to all) of his press conference, AFTER THE JUMP…