A new poll from Quinnipiac puts support for same-sex marriage in New York at 58%, higher than it has ever polled.
The NYDN reports: "Voters in the survey backed legalizing marriage between same-sex couples 58-36%, 'higher than ever while statistically unchanged from 56-38% April 14.' Once again, we see a split along party lines: Democrats support legalization 72-23%, independents back it 58-34% and GOP voters are opposed, 64-34%. Men support same-sex marriage 58-37%; women, 59-34%."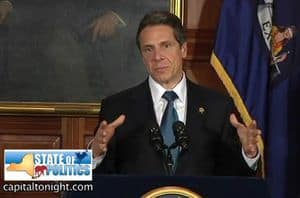 Governor Andrew Cuomo has reportedly pitched at least two Republican senators in person on marriage equality in recent days, Politics on the Hudson reports:
Sen. Roy McDonald, R-Saratoga Springs, was seen outside of the governor's office after Cuomo wrapped up a cabinet meeting on the second floor, while Monroe County Republican James Alesi told reporters he met with the governor after he requested a face-to-face meeting last week.
Alesi, of Perinton, has said repeatedly that he has made up his mind on the issue, but won't declare his position publicly because he doesn't want to influence other members in his conference.
The owner of Bombers Burrito Bar in Albany has taken out a billboard directed at Senator McDonald urging him to support marriage equality: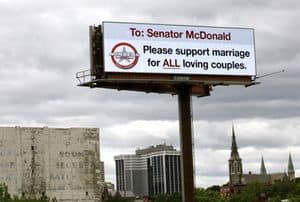 The Times Union's Steve Barnes reports:
Bombers owner Matt Baumgartner tells me, "This is the biggest, most public political stance I've taken, but it's such an important issue and it's so timely."
"I certainly don't want to lose customers because of it, but I'm willing to take that risk," Baumgartner says. "The issue is too important."
More at the Times Union…
And finally, the New Yorkers for Marriage Equality campaign has decided to feature everyday New Yorkers instead of celebrities for something different.