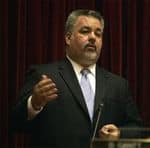 Joe Sudbay of Americablog is hosting a live chat with NY Assemblyman Daniel O'Donnell, the chief sponsor of the marriage equality bill that passed the NY Assembly last night.
He'll be offering the latest intel on the marriage equality situation in Albany.
Come back to this space at 6 pm EDT and we'll have it for you.
UPDATE 6:47 pm – chat has ended. Thanks everyone.