Following his meeting with LGBT homeless youth late last week, 30 Rock actor Tracy Morgan is in Nashville, Tennessee today, where his now infamous stand-up routine in which he said he would stab his son if he were gay, took place.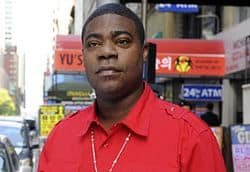 The AP:
Morgan was scheduled to address reporters Tuesday morning at the Nashville Convention Center after meeting with members of the audience who were offended by his comedy routine and representatives from gay advocacy groups.
The AP also reports that Morgan is not expected to take questions. It's the next-to-last step in a series of amends Morgan promised to make following outrage over his routine. The next will be an anti-bullying PSA.