Elaine Donnelly (with her group 'Center for Military Readiness') has for years been one of the leading crusaders against repealing the military's ban on gays in the military. She has attended numerous hearings to speak out against it and placed herself on the news as a talking head, as well as gathered thousands of signatures of retired, anti-gay military officials to try to prove that opinion is against repeal of the ban.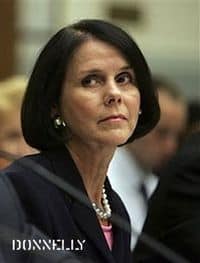 Now, it appears, she's in a bit of hot water:
The leading opponent of repealing the Pentagon's "don't ask, don't tell" policy and a decades-long critic of expanded opportunities for military women runs a nonprofit organization that watchdog groups say has filed inaccurate and misleading reports to the IRS, lacks a credibly independent board and is operating uncomfortably close to the line that separates education from lobbying.
***
An examination of a decade's worth of CMR's 990 tax forms and interviews with several nonprofit experts reveal a mom-and-pop operation that has repeatedly failed to comply with standard rules required of 501(c)3 groups like CMR.
"It seems very loosey goosey, not best-practice," said Ken Berger, president of Charity Navigator, which rates nonprofits. "They need to tighten up the way they're operating."
Andrea Stone's HuffPost piece goes on to expose the flaws in the group's governance, oversight, and advocacy. Everyone should give it a read.