Top Oakland A's pitching prospect Ian Krol has been suspended indefinitely by the franchise for a tweet containing an anti-gay slur which has since been deleted, NBC Sports Hardball Talk reports: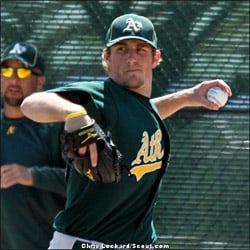 Krol had all of 90 twitter followers prior to the announcement, but the A's were obviously keeping tabs on him.
According to Larry Brown Sports, "Krol, a left-handed pitcher from Illinois, wrote 'ASU is a bunch of fake a** f***, get on one knee a **** **, I'm better than you'll ever be…''"
Larry Brown Sports adds: "Krol was suspended from his baseball team as a high school senior for an alcohol-related incident but he was still drafted in the seventh round by the A's in 2009. About the only smart move he seems to have made recently is deleting his twitter account. Krol, who has been on a rehab assignment with Oakland's rookie ball team, enjoyed plenty of success last season. The southpaw went 10-4 with a 2.80 ERA, spending most of his time pitching for the Double-A Midland RockHounds of the Texas League."
(image source)
Krol joins White Sox player Gordon Beckham and Philadelphia Eagles player DeSean Jackson on the homophobic bench this week.