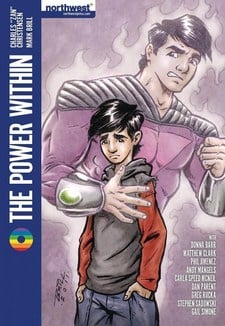 Gay comic creators Mark Brill and Charles 'Zan' Christensen have created what may be the best comic book of the year: The Power Within.
Published by LGBT comic company Northwest Press, 'The Power Within' follows a 13-year old boy named Shannon who turns to his inner superhero to combat anti-gay bullying.
And not surprisingly, the men found inspiration in their personal experiences and real life news, including Rutgers student Tyler Clementi's suicide last September.
From Christensen's introductory letter:
Fall of 2010 was a turning point. The news reports acknowledged the role anti-gay bullying played in [Tyler and others'] deaths… Peoples' eyes were opened to the fact that anti-gay harassment shouldn't have to be a part of growing up any more than sexism or racism should and that there were grave consequences for ignoring the problem.
…
Like Mark and I, [Shannon] turned to comic book heroes for his escape; he found a superhero within him to help him deal with his day-to-day challenges.

If you're struggling, be that superhero. Fight the good fight to be who you are, without apology.
The Power Within will be available at comic shops soon, but Bleeding Cool reports that Northwest will also distribute the special one-shot issue to student and school organizations for free.
Check out some preview pages, AFTER THE JUMP…
Images via Bleeding Cool: