The Servicemembers Legal Defense Network has released a comprehensive legal guide designed to help service members, veterans, recruits, and their families navigate the post-DADT environment.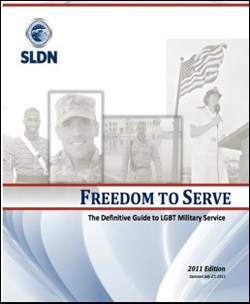 It is available as a downloadable PDF HERE.
"The information contained in this legal guide will help service members, prospective service members, their families, and friends make informed decisions about how to serve successfully as we move beyond 'Don't Ask, Don't Tell.' It will also assist them in understanding how to protect themselves when necessary and how to respond if they are targeted in any way for their actual or perceived sexual orientation or gender identity," said SLDN Legal Director David McKean.
"As has been our core mission since the founding of SLDN, we stand ready to represent and defend LGBT service members whenever the need arises, and our new online site reflects that ongoing commitment, while providing the most up-to-date and relevant information possible for those serving our country and those who support them," said Army Veteran and SLDN Executive Director Aubrey Sarvis.
In addition to outlining SLDN's legal services, the new guide and web site cover a myriad of issues including standards of conduct, benefits for spouses and families of service members, discharge upgrades, and veterans benefits. The new guidance becomes effective upon repeal of DADT on Tuesday, September 20, 2011. Until then, those seeking information or assistance should consult the SLDN Survival Guide, outlining issues related to serving under DADT.
Writes Andrea Stone of the guide in the HuffPost:
A recurring theme is how service members who marry their same-sex partners in the six states and the District of Columbia where gay marriage is legal are not eligible for all the benefits given to opposite-sex couples because the federal government forbids recognition under the Defense of Marriage Act (DOMA). The banned benefits for spouses includes health insurance, family separation allowances, higher housing allowances and surviving spouse benefits.
The guide notes at least one "advantage" over straight married service members: "Because same-sex marriages are not recognized under DOMA, a service member who is married to a same-sex partner would not be subject to adultery charges for having extramarital sex with another 'unmarried' person."
In a section on "Transgender Service," which will still be banned after repeal, the guide offers "tips for serving in the closet."
The group has also relaunched its website, gearing it toward a post-DADT environment. Sarvis said that the group will continue to fight for equality of all troops.