UPDATED BELOW
Bravo Executive VP and Watch What Happens Live host Andy Cohen is penning a memoir, and has scored a huge advance for it.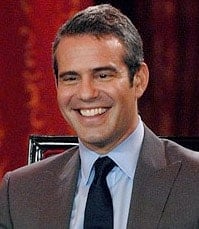 Here's the book's synopsis, from its publisher, Henry Holt and Company:
"Growing up in the suburbs of St. Louis, Mo., Cohen knew two things about himself: that he loved popular culture and that, around the age of 12, he was gay. He suppressed the latter and fed the former. His media diet was a steady stream of 70s shows like 'The Brady Bunch,' 'Laverne & Shirley,' and 'Donny & Marie.' He had a passion too for the medium's stars like Farrah Fawcett, Mary Tyler Moore and Susan Lucci, many of whom he would later meet. By his twenties, he was out of the closet and out of St. Louis.  In 1989, his life changed forever when he landed an internship at CBS News in New York. With his irrepressible personality and sky's-the-limit attitude, over time he went from intern to producer, absorbing everything he could about the industry and the guest stars on the network's morning show. His book will include many hilarious moments of mishaps on the set and while on assignment, and tell of his coming-of-age social life filled with antics and mayhem."
Cohen writes: "This is something I've always wanted to do and, if you've read this blog much over the past seven years, you know that writing is something I enjoy. And, yes, I will write every word of it, I don't know how I could settle for anything less than writing it myself. I started last weekend and have much work to do (understatement) before it comes out next summer."
The Hollywood Reporter adds: "Cohen is repped by CAA. Terms of the deal were not announced, though Cohen reportedly received a six-figure advance for the book."
UPDATE: "Sources tell The Hollywood Reporter that Cohen, the rare Hollywood executive who pulls double-duty as on-air talent, received a low seven-figure advance for his untitled memoir announced earlier Monday by Henry Holt for publication in summer 2012."