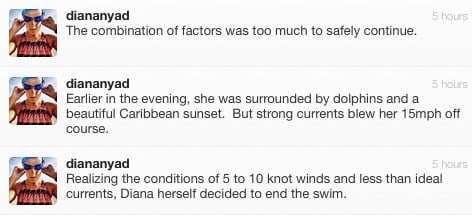 Sixty-one-year-old Diana Nyad, who yesterday set off to break an open water swimming record from Cuba to Florida was forced to give up her pursuit after 26 hours in the water, CNN reports:
Nyad, who is 61, struggled through ocean swells, shoulder pain and asthma Monday before she was forced to give up the 103-mile swim. Strong winds and less than ideal currents played into her decision, her team said.
"Earlier in the evening, she was surrounded by dolphins and a beautiful Caribbean sunset. But strong currents blew her 15mph off course," her team posted on her Twitter account.
The attempt to swim from Cuba to Florida was the second for the swimmer, who said at a news conference Sunday that she is fitter today than she was in 1978, when she first attempted the crossing but was unable to finish.
Said Nyad: "I am not sad. It was absolutely the right call."
Previously…
Diana Nyad Begins Swim from Cuba to Florida without Shark Cage: VIDEO [tr]