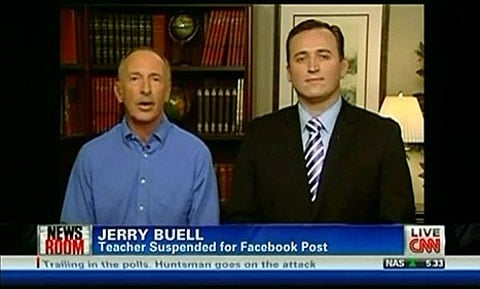 Last week, Andrew posted about Jerry Buell, a Florida teacher who was suspended for remarks he made on Facebook saying he "almost threw up" in response to a news story about same-sex marriage in New York. Buell also called the marriages part of a "cesspool" and said they were a sin.
The anti-gay Liberty Counsel stepped in to defend Buell. This week the ACLU joined Liberty Counsel in defending Buell.
The ACLU released a statement to the Sentinel in defense of Jerry Buell, a Mount Dora High School teacher who wrote a Facebook post calling same-sex unions a "cesspool" that made him want to throw up.
"The First Amendment protects his right to share his views – offensive or not," said Howard Simon, executive director of the ACLU of Florida, in a statement. "Even though we strongly disagree with his opinion, especially considering how hard the ACLU fought to win marriage equality in New York, Mr. Buell should not be subject to disciplinary action by his employer for expressing his views."
CNN interviews Buell and his attorney about his suspension, AFTER THE JUMP…
(clip via jmg)