Hurricane Irene has officially made landfall on the East Coast. Five people have died. 17 inches of rain have fallen on North Carolina. Wind gusts have reached 115 mph. Several million people have been ordered to evacuate. The storm is some 830 km wide, as this satellite photo shows. That said, the storm is a Cat. 1 – strong, but no reason for panic or premonitions of a Perfect Storm.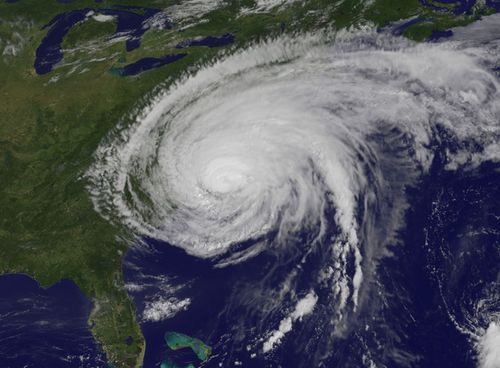 In Brooklyn, where I am, all public transport is shut down, but there's no sign of trouble yet – just some drizzle and an eerie wind that's been gaining strength all day. Out of the 370,000 people ordered to leave low-lying areas in the city, only 1 percent have turned up in shelters. 
If the power goes out, as it very well might, we'll try to get posts up and going again as soon as possible.
Please let us know what's happening in your area and what you're seeing. And stay safe out there! Take precaution. If you need it, here is some comprehensive advice on creating an emergency plan and "go bag," courtesy of the NY Daily News. And here's a slideshow of hurricane photos.
(Photo credit: NASA/NOAA GOES Project)