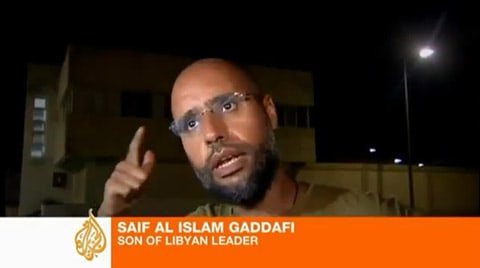 NATO got a wake-up call as the fugitive son of Libya's leader appeared on the streets of Tripoli, the NYT reports:
The euphoria that followed the rebels' triumphant march in Tripoli gave way to confusion and wariness as Col. Muammar el-Qaddafi remained at large, his son Seif al-Islam made a surprise appearance at a hotel with foreign journalists early Tuesday, and loyalist units stubbornly resisted rebel efforts to take control of the capital…
…Seif al-Islam el-Qaddafi, whose capture the rebels had trumpeted since Sunday, walked as a free man to the Rixos Hotel early Tuesday, boasting to foreign journalists there that his father's government was still "in control" and had lured the rebels into a trap, the BBC and news services reported. His appearance raised significant questions about the credibility of rebel leaders.
It was not clear whether he had been in rebel custody and escaped, or was never held at all. Another Qaddafi son, Muhammed, escaped from house arrest on Monday.
Watch Al Jazeera footage and an interview with Saif Al Islam recorded last night, AFTER THE JUMP…