Jerry Buell, the anti-gay teacher whose remarks about same-sex marriage on Facebook got him temporarily suspended from teaching and made him a hero to the religious right and groups like NOM, and the Liberty Counsel (which is representing him), is now under scrutiny for remarks he wrote in his class syllabus and on his school website.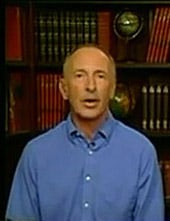 WFTV reports:
In one section Buell wrote, "I am a man of God and I try to be like Jesus every day. I teach God's truth, I make very few compromises. If you believe you may have a problem with that, get your schedule changed, 'cause I ain't changing!"
Then there's a comment from Buell's website stating, "I try to teach and lead my students as if Lake Co. Schools had hired Jesus Christ himself."
Buell doesn't understand what the problem is, because he's been anti-gay been using the same syllabus for years.
"The school district is saying that might run a foul to what they call the separation of church and state," said Buell's attorney Harry Mihet. "We are going to have to evaluate the schools position and engage them in some dialogue."
The school district believes he violated the constitutional provision of separation of church and state.
This is a new controversy, separate from the Facebook one.
On Facebook, Buell had written that he "almost threw up" in response to a news story about same-sex marriage in New York. Buell also called the marriages part of a "cesspool" and said they were a sin.
Buell returned to his classroom this week.