The Kentucky Equality Federation has asked the U.S. Justice Department to look into a report of an attack on a lesbian couple, Misty Turner and Brandy Standifer, and their children which took place on July 4 in Pathfork, a town in southeast Kentucky, at a fireworks display in a church parking lot.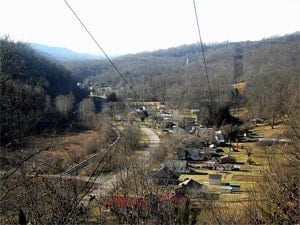 The Lexington Herald-Leader reports that a group of people shot fireworks at the couple and their children, taunted them with anti-gay slurs, and threatened to kill them.
The complaint sent to Kentucky Equality Federation:
I am a lesbian and have been with my partner for 5 1/2 years now. I have two small children, that we raise together as a family =) Accross the street from were we were parked, a party was going on and there was approx. 50+ people drinking and shooting fireworks. The crowd kept shooting fireworks in our direction, until one exploded near us, injuring my 2 children, several other family members, and my 80 yr old grandma. I addressed the crowd and told them to stop firing that they had hurt my children.. they proceeded to yell profanities at me including "We'll set everyone of the little Mother F**kers on fire!" At this time my father walked toward the crowd, and in effort to stop him I went behind him, once I had got away from my car I was attacked by a woman saying she was gonna kill me.
At this time my partner tried to stop her, and we were attacked by at least 15 men. All yelling "If you wanna look like a man, then fight like one" We were also called lesbians, whores, "pu**y licking whores" and dikes. No one else in our group was attacked but us. Then a gun was pulled and pointed at us and we were told "I'll kill your dike asses"… In the end, no shots were fired but my partner has suffered extensive contusions and at least one rib fracture, she is still undergoing treatment. I suffered from a closed head injury and intrasinus hemorrhage which is being treated now and damage is not yet determined. We were only able to identify 3 of the men involved. We pressed charges through the county attorney on July 5th. Today was our first appearance in court. A lawyer named Otis Doan is representing the other parties.. while testifying he questioned me about my lifestyle, he was very discrimating and ask me "do you promote this kind of life?" and made the comment "your a lesbian and live in Harlan county" then ask me if I still had "custody" of my children being a lesbian!!!
I was outraged but told him that it was called equality and I was not against any lifestyle. The judge did not stop his comments. One of the men was convicted to be sent to a grand jury for a felony, the other was dismissed, but we have to try and convict according to the county attorney. This has been a long process with a lot more to go. We need support for the gay community in this area. Otherwise, the court will use our sexuality against our case. PLEASE help us.. this was a hate crime and I believe the evidence should speak for itself. Thank you!! ~~
The Kentucky Equality Federation's press release regarding the Justice Dept. is here.
(image – pathfork, ky via wikipedia)