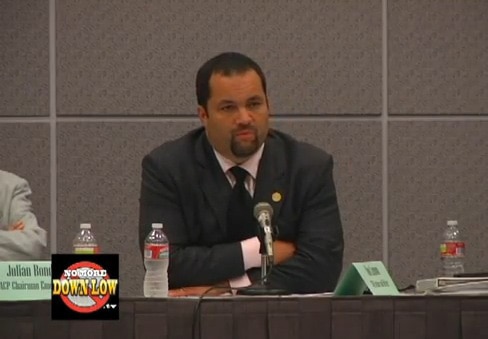 No More Down Low attended the LGBT Town Hall meeting at the recent NAACP convention in Los Angeles. The town hall featured remarks by CNN achor Don Lemon, as well as a panel featuring Wanda Sykes, former NAACP president Julian Bond, and current NAACP CEO Ben Jealous.
No More Down Low writes:
Mr. Jealous responded saying the gay community should take the NAACP seriously because the NAACP was there with the Human Rights Campaign helping to pass the Matthew Shepard / James Byrd Hate Crimes Bill. The NAACP were champions of fighting Prop 8 in California as well as fighting alongside the LGBT community in Maine, Massachusetts, in Washington D.C. and in Maryland, and in other places. Jealous also said the LGBT community needed to do more ground work in the black community and not come late in the game with an expectation. He also said the black community needed to be treated with the same respect as the other allies of the LGBT community.
Watch their report, AFTER THE JUMP…