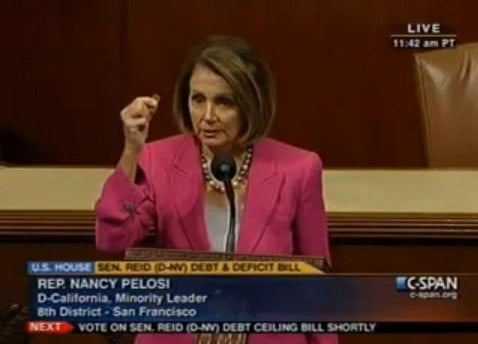 On Saturday, Rep. Nancy Pelosi spent eight minutes blasting House Republicans and John Boehner for declaring, "The bill is not perfect but we did our level best."
Said Pelosi: "[Boehner] chose to go to the dark side by putting forth a bill that he himself told his members would sink it in the Senate, and I add, lead to default."
Meanwhile, Rep. Emanuel Cleaver (D-MO) appeared on MSNBC and called the ultimate deal "a sugar-coated Satan sandwich."
The NY Times calls the deal "terrible", put together "to escape chaos." I haven't written much at all about this circus all week, though I'm sure you have some thoughts on the final agreement. Please tell us what they are.
Watch the clips, AFTER THE JUMP…
(via david mixner)