I'm not sure how a film could get a better cast than Kristen Wiig, Darren Criss, and Annette Bening. Imogene is Wiig's follow-up project to Bridesmaids, Vulture reports: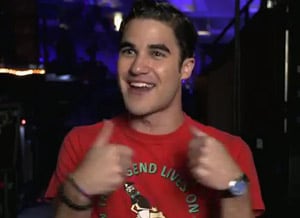 Talking about the plot of Imogene, [producer Celine] Rattray explained that Bening's pretty much going to be getting a spray tan and a push-up bra. "Kristen Wiig plays a girl from New Jersey, who … is embarrassed about her family in New Jersey, like it's Jersey Shore," Rattray said. "She gets sent back to live with her mother in New Jersey, played by Annette Bening, who is a tacky Jersey Shore mother, and then it becomes about her family reconnecting." Just how tacky? Rattray described Bening's character by saying, "Her outfits, her makeup. She's the mother who's a little inappropriate all the time, nothing is ever too much, and it's going to be fun."…
…As for Criss's role, Rattray said he would play "a younger love interest. When Kristen goes back home from New Jersey she falls for someone."
Meanwhile, if you haven't had enough Criss yet today (and I know some of you haven't), check out the teaser he recently did for the upcoming Glee 3D movie, AFTER THE JUMP…