A newly-formed South Florida LGBT group is planning a rally on Monday in response to recent controversy surrounding the Wilton Manors Business Association's recent invitation to anti-gay Congressman Allen West to speak at one of its meetings.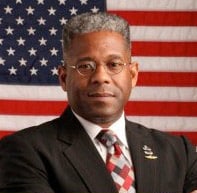 Dean Trantalis, an attorney and member of WMBA, hosted the first meeting of the Coalition for Equality and Fairness and stated that their goal is to create an organization designed to protect citizenship diversity and stand up to public officials who are bullying the LGBT community.
The new group announced that it will release its mission statement Thursday, after planning an agenda and venue for its first event — a rally entitled "Allen West: In His Own Words." The forum, open to the public, will be held 6 p.m. Monday, August 8, in a location to be announced.
The WMBA withdrew its invitation to West following outrage and calls for a boycott of the organization from the LGBT Democratic Caucus.
West wrote a letter (PDF) condemning the cancelation:
"This boycott would have harmed hard-working small business owners simply because members of the Wilton Manors Business Association wanted to be better informed on business related issue taking place in Washington D.C.," the statement reads. "In these very tough economic times, I find it intolerable that the Florida Gay, Lesbian, Transgender Democratic Caucus would call upon a boycott to hurt small business owners trying to earn a living and only wanting to better be informed about business related issues from their Member of Congress. Clearly, we have learned who really are the intolerable individuals in South Florida."
The South Florida Gay News has a timeline of the West controversy, which includes statements he made as recently as July regarding the military's 'DADT' policy:
In Plant City at a town hall meeting West comments on Don't Ask Don't Tell. He states: "When you take the military and you tell it they must conform to the individual's behavior, then it's just a matter of time until you break down the military." He also rejects any comparison between racial integration and the integration of gays in the military. "Let me explain something to you. I can't change my color. People can change their behavior, but I can't change my color."
Note to readers: several of you have written in complaining about Allen West ads that are appearing on our pages. If you see them, it is likely that they are appearing contextually based on content which we have written exposing his anti-gay positions, and can be difficult to block.