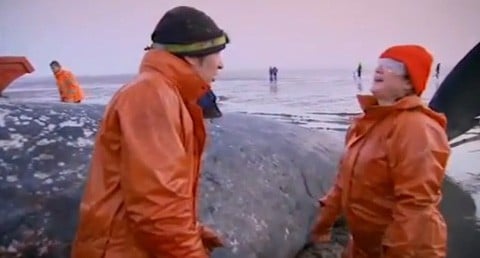 A beached Sperm Whale provides wildlife experts with an opportunity for a rather in-your-face male anatomy lesson on Britain's Channel4.
The Independent explains:
In March, a sperm whale was beached on the craggy sands of Pegwell Bay in Kent. Taupe skies gave a grimness to its final setting, but veterinary scientist Mark Evans, who looks like the sort of person you'd back in a fight with a cobra, saw this as a marvellous opportunity. He and the producers called in a garrulous anatomist called Joy Reidenberg, who soon emerged as the star of the show. In a 20-hour burst, first under floodlights and later fighting the tide, they went digging into Leviathan.
Watch (warning: may not be for the squeamish), AFTER THE JUMP…