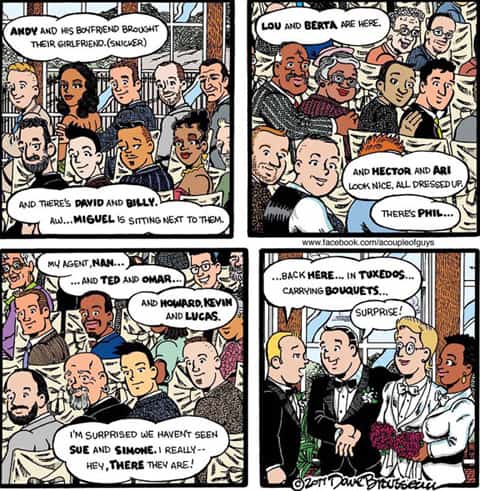 News that Archie's new gay character Kevin Keller will wed in January has come in this morning.
But first…
There is another nationally-syndicated gay comic that has had a same-sex marriage, and those characters will renew their vows this month to mark New York's new marriage equality law.
Eric Parker and Joey Romelli, the title characters from Dave Brousseau's strip "A Couple of Guys" (above), were married in Massachusetts in 2004, and will renew their wedding vows at the Central Park Boathouse, in three strips dated the weeks of September 12, 19 and 26. One of those strips has already been published. You can read it HERE.
Brousseau's comic, which runs in gay publications in Seattle, Detroit, and Dallas, among others, celebrates 15 years of publication this month, and you can follow it on Facebook HERE.
As for Archie's Kevin Keller, "The publisher announced this week that the happy event will take place in Life With Archie #16, on sale in January."