Herman Cain's campaign sought to cover up the fact that one of its staffers, Cain's PAC treasurer and senior political adviser Scott Toomey, was gay, following statements in early June by Cain that "he would have no problem appointing gay staff members to work in the White House as long as they were qualified."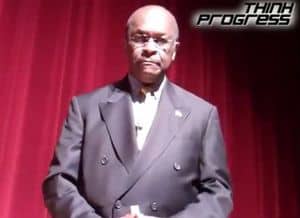 Kevin Hall, Cain's former Iowa straw poll coordinator, says that Toomey, the former treasurer of financially-troubled Madison Gay Pride, was quickly removed from his position and Cain staffers were asked to cover it up, the AP reports:
Hall said he was not bothered by Toomey's background but aides knew it exposed Cain to charges of hypocrisy.
"A conservative candidate, Mr. Cain is on the record as stating that he believes homosexuality is a sin and a choice. And they know that, if his top adviser, his highly paid adviser, is openly gay that it would cast a negative light on Mr. Cain and would cost him in his efforts to become president," he testified. "Basically the campaign was trying to cover up the fact that Mr. Toomey was still involved. They asked … me to help them cover up that fact."
The allegations surfaced during testimony to the Iowa Workforce Department regarding Hall's firing.
Administrative Law Judge Bonny Hendricksmeyer ruled that Hall should be awarded benefits, saying he resigned after being asked to engage in the cover-up:
"The presence of the gay person on the campaign was misrepresented to the staff, which caused Mr. Hall and others to inadvertently misrepresent the fact to others," Hendricksmeyer wrote. "(Hall's) credibility and his future job prospects would have suffered. It is possible if the situation had been discovered it would have also created a negative impact on (Hall's) job duties. He felt it was possible the candidate would lose credibility and the straw poll results would be very poor."
Watch Cain's June statements about appointing a gay person, AFTER THE JUMP…