Democratic senators raise alarm about abuses of the Patriot Act.

Pro-equality judge Goodwin Liu confirmed unanimously to California Supreme Court.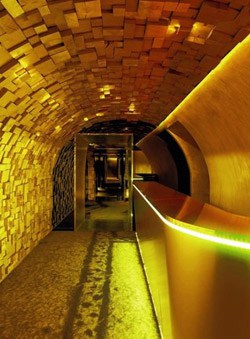 David Lynch opens nightclub in Paris, Club Silencio: "Everything from the toilet bowls – black on black – to the saltiness of the nuts on the bar was decided on by the master himself. He even created the 1950s-inspired furniture, the chairs designed to 'induce and sustain a specific state of alertness and openness to the unknown'."

Prince Harry holds suggestive balloon.

GLAAD calls on Chelsea Handler to apologize for treatment of Chaz Bono in discussion with guests: "The 'humor' utilized by the others hinged solely on using both male and female pronouns to describe Bono and reducing his identity down to anatomy in order to ridicule him."

Grisly photo [spoilers] of James Franco on General Hospital released.

Put the Needle on the Record: 250 iconic single covers from the 80's. "The book not only features the iconic images, but also the previously untold stories behind the images from the designers and visual talent behind Madonna, Prince, Adam Ant, Pink Floyd, Queen, The Clash, Pet Shop Boys, Kate Bush and more."

Britney Spears readies release of new album.

Charlie Hunnam loves a crazy beard.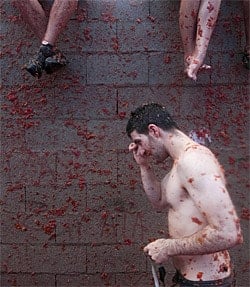 The Big Picture goes to this year's Tomatina festival near Valencia, Spain.

Boy With Pink Hair: Perez Hilton releases children's book.

Major League Baseball rookies forced to wear Hello Kitty, pink backpacks as hazing ritual: 'Everybody laughs at me," said Bryan Shaw, a 23-year-old rookie reliever for the Arizona Diamondbacks. Before each game, he makes the long, painful walk to the bullpen toting a pink bag adorned with an image of a white unicorn. "They all yell, 'Cute bag!'' he said."

Leading conservative Rabbi David Wolpe: "And as for the question of gay marriages, he argues that 'in America in 10 years, maybe less, maybe more, it won't be an issue. The sociological trend is overwhelming. Under [the age of ] 30, 70 per cent favour gay marriage; under 18, it is probably 90 per cent. It is almost irrelevant what your view is, you are standing against the ocean in America and I suspect that will be true of Europe, too.' Theologically, there are different Conservative teshuvot on the subject. 'You can argue, especially if you use biblical criticism, that what the Bible was proscribing was not necessarily gay relationships….Gay marriage is a matter of time,' he said, 'whether one likes it or not.'"

Is this the new gay character on Days of Our Lives?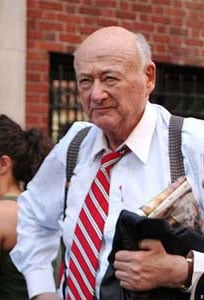 Ed Koch responds to criticism from City Councilman Daniel Dromm and activist Alan Roskoff over his support of anti-gay conservative Bob Turner for Anthony Weiner's House seat: "Oh, f**k those two guys."

Joe Manganiello joins Steven Soderbergh male stripper film: "The drama, based on Channing Tatum's past, will also star Matthew McConaughey, Alex Pettyfer, Matt Bomer, Cody Horn, and Riley Keough."

Madonna hits the Venice Film Festival with her film W.E..

Cat vs. printer.

Wikileaks cable addresses homosexuality in Botswana: "Steve Nolan, the former US Ambassador to Botswana who left the country two months ago, has claimed that Botswana laws do not specifically criminalise homosexuality despite the fact that most people in Botswana appear to believe homosexuality is illegal. 'There is no law that makes homosexuality a crime, although it would be fair to say that the average person thinks that this is contained in the law.  There is no indication that the Penal Code will be amended to include homosexuality as a specific offense', Nolan claimed in a cable leaked by WikiLeaks.