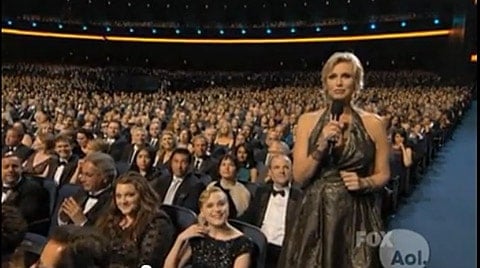 Jane Lynch jokes about the reason she's a lesbian, in one of the funnier moments from last night's Emmys, AFTER THE JUMP…
All kidding aside, not too long ago gays and lesbians were invisible here.
Emmy-winner Norman Sunshine remembers, in a heartfelt piece in the NYT:
That night we talked about the show and the two tickets I would receive. We had been told of Warner Brothers' hesitation in making Alan president because of our relationship, and had been advised by helpful friends not to rub it in people's faces. So Alan always attended business parties with women, never with me. But this was the Emmys, and I was nominated for Alan's show. Shouldn't we be together?
We went back and forth but finally decided it would be better if I went with a woman, and that was the end of it.