UPDATE: The judge has declared a mistrial. Prosecutors must now decide whether to refile murder and hate crime charges, according to the AP. See earlier updates for details…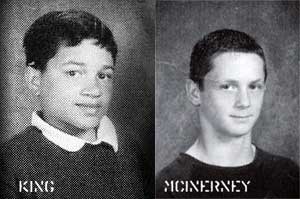 GLSEN released a statement following the announcement:
"The mistrial declared today is hardly a surprise," GLSEN Executive Director Eliza Byard said. "This was always destined to be a case with little resolution and no winners, whatever the verdict. The central facts remain the same: homophobia killed Larry King and destroyed Brandon McInerney's life, and adults failed both young men because of their own inability to deal forthrightly and compassionately with the multiple challenges they each faced. The jury's indecision is a sad reflection of our collective inability to find common ground and invest in a better future for all youth and a culture of respect for all."
EARLIER…
A mistrial may be declared in the trial of Brandon McInerney, charged with shooting to death his gay classmate Lawrence King in 2008 in their Oxnard, California classroom, the L.A. Times reports:
A judge has ordered jurors in the high-profile murder case of an Oxnard teen accused of shooting a gay classmate to keep deliberating even though they have been unable to reach a verdict despite repeated votes, The Times has learned.
The judge has indicated a mistrial is a possibility…
…A mistrial would bring to a close a trial  that has been followed closely by gay-rights groups that have fought hard to protect gay and transgendered students from campus bullying.
The jury has been deliberating since Wednesday.
This afternoon they submitted questions to the judge, the Ventura County Star reports:
The jury in the Brandon McInerney murder trial submitted questions to the judge this afternoon.
What is a person of average disposition? And what is rationally — regarding a person acting rationally.
The defense team is researching some definitions that the prosecution proposed regarding a person of average disposition. The term rationally has not yet been defined.
Once the answers are determined, they will be sent back to the jury.
The two votes taken were 8-4 and 9-3. The forewoman said it's unlikely they'll come to a verdict.
As the trial closed, prosecutors in the trial argued for a murder conviction, and not the lesser manslaughter conviction the judge allowed earlier this week. Defense attorneys brought  a "gay panic" defense, arguing that McInerney snapped after he was sexually harassed by King.