Rep. Duncan Hunter (R-CA), who was behind a spate of anti-gay amendments to the repeal of "Don't Ask, Don't Tell" which were not approved, is trying again. The bill he has introduced this time actually seeks to ensure homophobia has a place in the U.S. military, and directly contradicts concerns about the repeal disrupting unit cohesion by introducing a measure that would do just that.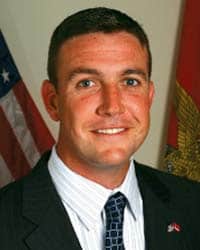 The language of the bill:
To amend Public Law 111-321 (Dont' Ask, Don't Tell Repeal Act of 2010) to require that… members of the Armed Forces are not pressured to approve of another person's sexual conduct if that sexual conduct is contrary to the personal principles of the members.
The Army Times reports:
Essentially, this would mean that military people have to accept the presence of gays in the military but they would not have to like it, said an aide familiar with the legislation.
Hunter has tried several times to block or undermine repeal of the ban on open service by gays but has been blocked at every step by the Senate's refusal to take up any legislation modifying the repeal law.
There also is no guarantee that his new proposal would become law. Hunter might be able to get House leaders to schedule a vote on the legislation before Sept. 20, the day when the ban is scheduled to officially be lifted, but again, the Senate would be unlikely to take up the measure.
Hunter could introduce the bill as early as Sept. 7, when the House resumes work after the August recess.