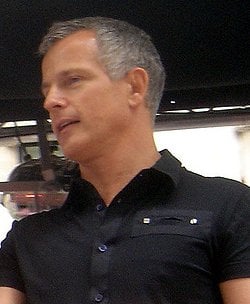 Brian Paddick is a married gay man, a former high-ranking officer in Britain's police force, and a crusading victim of News of the World's phone-hacking scheme. And now the Liberal Democrats have nominated him as their mayoral candidate for London in the 2012 elections.
An ex-cop who was spied on by Murdoch's minions – could Paddick be more perfect? In the looks department, at least, this British Anderson-Cooper-impersonator certainly beats out current mayor Boris Johnson, who resembles an emo Donald Trump caught in a wind storm.
Deputy PM Nick Clegg summed up his appeal thusly:
"Brian's experience is exactly what London needs right now. Whether dealing with the aftermath of the riots of phone hacking and corrpution in the Metropolitan Police, Brian has shown in recent weeks that he has the authority and leadership that London needs."
He was Britain's most senior gay policeman, and now he could be London's first gay mayor.