Out PETA Senior Vice President Dan Mathews was in Atlanta during the recent Pride celebrations and was troubled by a circuit party he heard about planned for the Georgia Aquarium:
I had never been inside an aquarium before–just outside as a demonstrator. I only learned of this gala when I arrived from Virginia to work PETA's booth at the gay pride festival in Piedmont Park. I found it ironic that my seemingly sophisticated subculture would celebrate freedom in a building that celebrates captivity.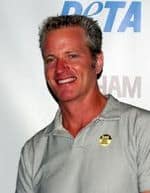 Mathews decided to investigate the party rather than protest it from outside, and was particularly concerned about the effect of ear-splitting dance music on the aquarium's beluga whales (particularly a 16-year-old named Beethoven, below):
Like gays, belugas are very social beings who in nature hang out in large, often exclusively same-sex groups called "pods." They are Arctic animals who travel thousands of miles each year in the wild, guided by an intricate sonar system centered in what looks like a bump on their forehead. They make high-pitched squeaks and whistles that bounce off the ocean floor, the polar ice caps and the coast to help them migrate, forage, breed and socialize.
This sonar system, which combines all their key senses, is thwarted in the relatively tiny aquarium tanks, and the trend in recent years of loud parties designed not for education but for extra profit has further devastated the lives and psyches of these uniquely gifted animals. The UN may have banned the torture of prisoners with music, but it is routinely practiced at the Georgia Aquarium.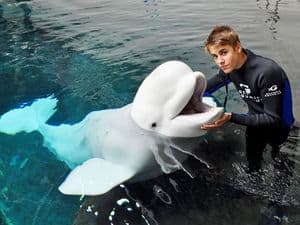 The aquarium's guide, who was stationed at the tank to answer questions, said that loud music is especially bothersome to the whales:
"Especially the males―as soon as the music starts pounding, they go nuts and start attacking the harbor seals in the tanks. We had Jazz Fridays this summer, and I can't say many of the animals in any of the exhibits were fans. When the music starts, they get to fighting."
Mathews says he hopes the organizers will choose a more humane venue next year.
I wonder if Beluga whales have a tolerance for more mellow types of music? Mathews' post made me think of the video I featured several weeks ago of the Beluga whale in Mystic, Connecticut being serenaded by a Mexican mariachi band. That particular whale seemed more fascinated than upset.
A video of Beethoven the Beluga whale, AFTER THE JUMP…
Party Out of Bounds [huff post]
(image justin bieber with beethoven, the beluga whale referenced in mathews' post)