Out lesbian Janice Langbehn is one of 13 citizens to be honored at the White House on October 20 to receive the 2011 Presidential Citizens Medal, the nation's second-highest civilian honor.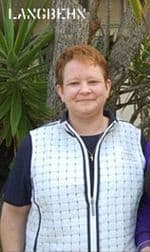 The White House writes:
While on vacation with her family in February 2007, Janice Langbehn's partner, Lisa Pond, suddenly fell ill and was rushed to the hospital.  Langbehn was refused access to her partner, who had experienced a brain aneurysm and later died alone.  With the help of Lambda Legal and GLAAD, she filed a federal lawsuit and worked to get her story out to the nation. Janice's story received attention from President Obama, who personally apologized to her for the way she and her family was treated.  He went on to revise hospital visitation rights for gay and lesbian couples, which went into effect this past January for any hospitals receiving federal Medicare or Medicaid funds. Langbehn receives the Citizens Medal for her efforts to ensure all Americans are treated equally.
They add: "The Citizens Medal was established in 1969 to recognize American citizens who have performed exemplary deeds of service for their country or their fellow citizens.  Like last year, President Obama is recognizing Americans this year whose work has had a significant impact on their communities but may not have garnered national attention.  In May, the President called on members of the public to nominate people in their lives who have performed exemplary deeds of service outside of their regular jobs, including individuals"
Watch Langbehn talk to Anderson Cooper in April 2010 about Obama's memorandum, AFTER THE JUMP…