Diddy tweeted an apology today following the posting of a video shot over the weekend in which he used racial and homophobic slurs at a clubgoer at a BET Awards after-party event. Diddy was apparently angry that the clubgoer was drinking Grey Goose and not the Ciroc vodka for which he is spokesman, TMZ reports.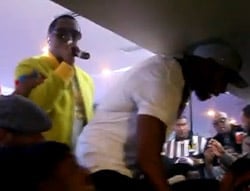 Diddy began shouting at the man, "B*tch ass n**gas … put that sh*t down … before I come smack that purple shirt off your ass."
It appears Diddy grabs ice and throws it at the man … before screaming, "What the f**k are you gonna do, b*tch? F**king f*ggot ass light skin n**gas get the f*ck out of my face."
Wrote Diddy on Twitter earlier today:
"I'm a child God and I should be better no matter what somone says to me. I'm sorry for the ignorant way I repesented myself and us….To all my childen of God … I have backslid and regressed. Forgive me for my ignorance. Pray for me pls. I know better and I am better…I have a responibility that I promise I will live up to. And I'm more dissapointed in myself than you know. I will humble myself and learn. bottom line is I'm sorry to all! Pls find it in your heart to accept my apology. I will do better and be Greater And a source of positivity!
Watch the video, AFTER THE JUMP…