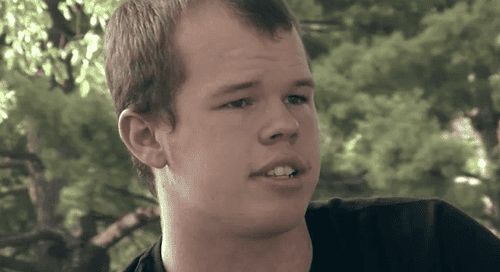 A college student says his father tortured him after he came out at age 12. Pink News reports:
Samuel Brinton, a student at Kansas State University, said his Southern Baptist missionary father beat him, burned him and shocked him with electric currents.

He said his family, who lived on a missionary base in Iowa, first realised he was gay at the age of 12, when he told his father that he felt more strongly about his male best friend than models in Playboy magazine.
According to Brinton, his father told him that he had AIDS and that the government was hunting down gay children. Then he allegedly subjected his son to homemade conversion therapy. It was unimaginably brutal:
He said he was beaten badly by his father to the point of being hospitalised six times, although doctors were told that he had fallen down the stairs.

Samuel was also burned or forced to hold ice cubes while looking at pictures of men embracing to make him associate male intimacy with pain.

The worst came in the form of the "month of hell", in which needles were stuck in his fingers to administer electric shocks while he was shown gay porn.
Brinton finally relented and pretended to be straight to avoid punishment. Shortly before going to college, though, he told his family the truth. His father kicked him out of the house and allegedly threatened to kill him if he ever came near the family again.
Brinton now appears to be in high spirits, and he's still offering his parents the chance to accept him. They haven't returned any of his calls.
***
IMPORTANT UPDATE: Astute commenters have pointed out that the video is old, even though it's suddenly the top story at Europe's Pink News today. Towleroad covered it in 2010, before I came on board.
Wayne Besen, founder of Truth Wins Out, writes in the comments field below: 
Truth Wins Out has tried verify this story for more than a month. Our phone calls have gone unanswered. We hope that the full range of facts can come to light. For example, who was the specific therapist who performed these abusive actions? We are always pleased when "ex-gay" survivors are brave enough to come foward and share their experiences. We look forward to Samuel providing further information in the very near future.
And another comment, from Ninong: "Apparently his parents accepted him after that interview because he has a picture of the entire happy family at his college graduation ceremony, May 31, 2011 on his Facebook page." 
***
Watch, AFTER THE JUMP…