Three women share Nobel Peace Prize: "Winners are Ellen Johnson Sirleaf and Leymah Gbowee of Liberia and Tawakul Karman of Yemen for 'their non-violent struggle for the safety of women and for women's rights to full participation in peace-building work'."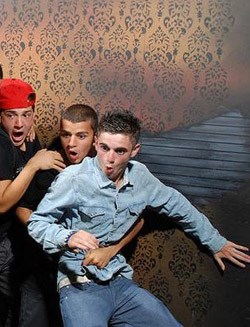 Watching people get frightened can be very amusing.

35-year-old pageant trainer goes under the knife multiple times so he can look like Superman.

UK PM David Cameron appoints gay man as head speechwriter: "Mr Glover, who is the civil partner of Times writer Matthew Parris, will replace Ameet Gill, who has become Number 10′s new head of strategic comms. According to Paul Waugh of PoliticsHome.com, Mr Glover is a 'modernising Tory' who has impressed Downing Street over the last year with his enthusiasm for the coalition."

Ian Somerhalder gets super-flamboyant in Flaunt.

Oral sex may cause more throat cancer than smoking: "Researchers examined 271 throat-tumor samples collected over 20 years ending in 2004 and found that the percentage of oral cancer linked to the human papillomavirus, or HPV, surged to 72 percent from about 16 percent, according to a report released yesterday in the Journal of Clinical Oncology."

Steve Jobs' death loses to Beyoncé's baby bump on Twitter.

Men demonstrate how silly classic pin-up poses are.

Fart fetish group in bidding war over Nancy Grace's 'DWTS' video.

Gay.xxx domain sells for $500,000 to Corbin Fisher.

Tennessee pastor accused of attacking gay son and partner at church, is now charged with theft: "According to Trenton police, they recently arrested Pastor Jerry Pittman, of Fruitland's Grace Fellowship Church, on charges of stealing from a local business."

World travelers, here are some resources on gay Borneo.

Lindsey Graham says Rick Perry is not a racist. So let's all just move on.

The Sons of Tennessee Williams tracks the gay civil rights movement through the lens of Mardi Gras in New Orleans: "Starting in 1959, groups of gay men began discreetly to charter social clubs called krewes, transforming the momentary license and briefly relaxed laws during Mardi Gras into public explosions of an underground culture. Like the camp tradition of which it partakes, the krewes' lightly debauched and thoroughly colorful balls were both an irreverent spoof of aristocratic tradition and a deadly serious protest against social injustice."

More bromance for Eric and Bill on True Blood?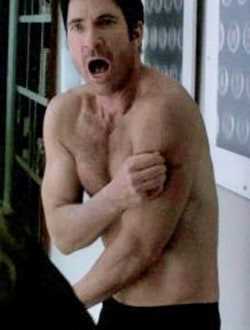 Dylan McDermott gets the pants scared off him – literally – in American Horror Story.

UK man jailed for unleashing attack dog on lesbian.

Human rights organization accuses South Africa of failing to investigate homophobic serial killer: "The victims, each in their 30s, were found dead between December 2010 and September 2011. All of the victims were bound and strangled, according to The Star."

Four men convicted of murdering lesbian in Cape Town.

A mom writes a blog post about how her son has a crush on Blaine from Glee, and the internet erupts: "The horrible and hate filled words of the Michele Bachmann's of the world take on a whole new level of disgusting when picturing them being screamed at a group of kindergartners and first graders. They are unnatural. They are sinners. They are going to hell. They are dirty, wrong and sick. These people would tell my innocent little boy (who currently wants to be a fireman-ninja when he grows up) he is the biggest threat the American family… because he wants to kiss boys and not girls. The reality is they are pounding these words of ignorance and hate into the ears and minds of gay children every day."