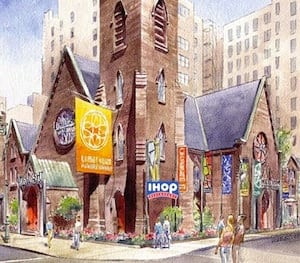 New York's famed former Limelight nightclub is becoming an International House of Pancakes.
The Real Deal writes:
Retail broker Gene Spiegelman, an executive director at Cushman & Wakefield, said IHOP should thrive in New York City as Chock Full o'Nuts and fast-food chain Nedick's once did. 
"I can see the value of putting a 24-hour, seven-day, value-priced restaurant near subways, near schools. I think the location at Sixth [Avenue] and 20th [Street] is a great location," but, Spiegelman added, "The real estate is odd [because] the physical nature of the building is not traditional for an IHOP." 
The old Limelight is the subject of a new documentary from Magnolia Pictures.
Check out the trailer, AFTER THE JUMP…